RECEIVE EXCLUSIVE INFORMATION
Over the next few weeks, we will send you exclusive details about our upcoming keto granola release on Amazon. Due to restrictions at Amazon, we cannot give an official release date until the product is officially published. So, that means you will quite literally be the FIRST TO KNOW about our new keto granolas!
KETO GRANOLAS IN 3 INDULGENT FLAVORS
EARLY PRAISE FOR BUBBA'S KETO GRANOLAS
Love it! I had to stop myself from eating it all in one sitting. Quite decadent.
-Kevin P
This is absolutely wonderful and perfect for this time of year. I love the texture and the taste. There was nothing I did not like about it. Perfect amount of sweetness, without being overly sweet.
-Stefani L
This was AMAZING!!! Seriously - soooooooooooo good!!! Everyone in my household loved it!
-Karina M
OUR GRANOLA IS PRETTY GOOD...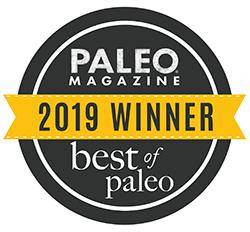 In 2019, Paleo Magazine readers voted Bubba's UnGranolas as the Best Paleo Granola. We figure it might be time to add Best Keto Granola to our repertoire as well.